Allison's Native American Purse & Accessories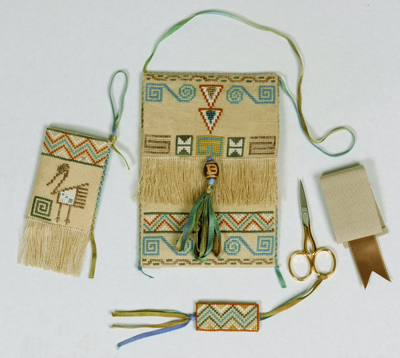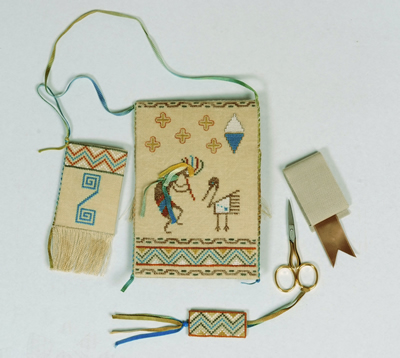 The idea of this sewing set came to me when on July 2010, with my husband and our daughter, I was driving on US Route 89 from South Rim and North Rim of Grand Canyon through Marble Canyon.
This road is also named Fredonia-Vermillion Cliffs Scenic Byway and enables travelers to take a trip across Northern Arizona to the great meadows and forests of the Kaibab Plateau.
As we drove, the flora and fauna changed from desert scrub to juniper, oak and aspens as the blue green waters of the Colorado River cut through Marble Canyon.Beginning in Page and heading south to Bitter Springs, we drove past the red and plum hues of the Vermillion Cliffs and we walked across the Historic Navajo Bridge……..
Dedicated to my friend Allison Leigh Schmidt (Marble Canyon Metal Works), this sewing set is inspired by Native American symbols and petroglyphs.
Ribbon: one package of the following hand dyed silk ribbon from The Threads Gatherer: Savoir Faire 4.5 mm Honey Turquoise SF 070
Beads: 18 deep-Teal seed beads and 18 semi-mat Gold seed beads
Accessories, stitching and finishing materials are not included in chartpack
Chart pack includes designs charts and instructions for stitching and finishing the purse, the sewing accessories and magnetized needleminder necklaces.
| | |
| --- | --- |
| Fabric | 10.8x28 in (27,5x71 cm) 30 ct linen Korty's Special Blend from R & R Reproduction |
| Threads | one skein each of hand dyed silk threads from The Threads Gatherer: Ecru SNC 00E, Burnished Gold SNC 060, Dried Thyme SNC 156, Bear Brown SNC 161, Ethiopian Rocks SNC 293, Papyrus Leaf SNC 319, Cinnamon Stick SNC 1010, Ethiopian Rocks SP10 293 |
| Stitches | Cross stitch over two and over one, Laced cross stitch bars, Smyrna stitch. |
| Etsy Shop | Buy the PDF Chart on Etsy! Click here! |