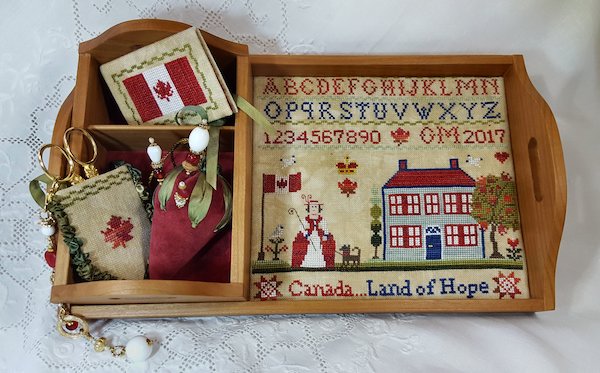 A sewing set designed for a wooden tray and cache. It has been inspired by my love for Canada, the country where my husband first started his medical training and where we spent out honeymoon.
In this country, a lot of desperate refugees can nowadays find refuge and hope To my Canadian friends and the Government of Canada, I am here to say thanks for their inspired actions and generosity. Might you get back what you are giving today and what you gave my husband at the beginning of his successful medical career. You are an example to young generations who need proof of hope and tolerance.
Inside the stitched tray, there is place for a strawberry pincushion, a scissor case and a needlebook.
Scissor fob and pins by Roberta Dazzini not included in the chartpack, available for purchase at Giulia Punti Antichi.
Large Stitchers Sampler Tray and Large Cherry Stitcher's Cache by Priscilla's Pocket.
| | |
| --- | --- |
| Fabric | 22x11 in (56x28 cm) 32 ct Belfast Doubloon linen by Pictures This Plus |
| Threads | hand-dyed twelve-stranded Silk'n Color threads by The Thread Gatherer: Snow Drift White SNC 000, Camouflage SNC 055, Burnished Gold SNC 060, Green Leaves SNC 073, Texas Bluebonnet SNC 166, Bohemian Tryst SNC 271, Kringle's Coat SNC 280, Green Dragon SNC 303, Dung Paper SNC 317, Safari Grass SNC 318, Cameo Crème SNC 1010 |
| Stitches | Cross Stitch, Backstitch |