Isabella Sinclair 1827 Sampler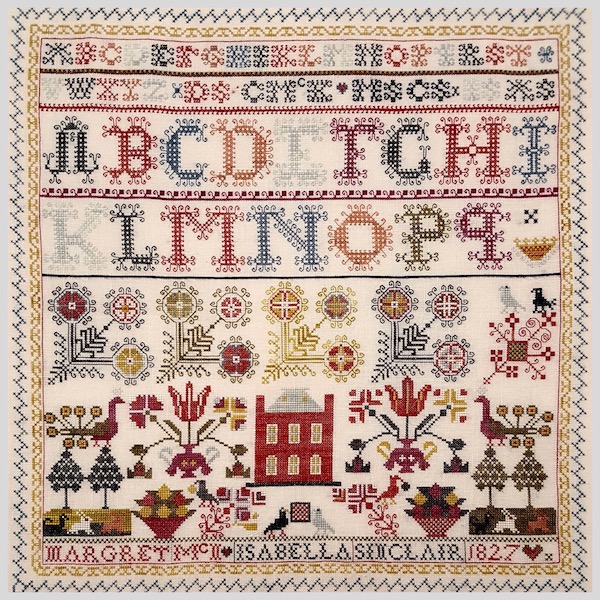 This Scottish sampler, belonging to my private collection, was embroidered by Isabella Sinclair in 1827.
A strong indicator of Scottish origin is the use of family initials. Interestingly, this tradition is also found in Flanders. The two cultures have been well integrated for centuries. Some have called this the North Sea Culture. Back then, it was the German Ocean. They appear either in bands, as in this sampler, or scattered around. Alphabet bands with curlicues are also a very strong indicator of Scottish samplers. Curlicues are those wonderfully intricate curly Holbein stitches used to decorate letters in the alphabet and elsewhere.
Bold primary colors in red and green, various animals (dogs, rabbits), noble seven-tail-feathered peacocks, geometric and French-influenced architectural elements and bright lettering are typical of Scottish samplers. .
Some samplers were worked in wool threads, many of the samplers were worked in colorful silk threads. Most had the alphabet with a motto or verse, initials and date of embroidery on them. By the 18th century, samplers were a complete contrast to the scattered samples sewn earlier on. These samplers were stitched more to demonstrate knowledge than to preserve skill. Girls were taught the art of stitching from a young age, as it was considered a source of virtue and success. Samplers were most often a way to showcase learnt stitches.
DMC conversions included in the chartpack.
The Scottish Sewing Set was inspired by this sampler.
| | |
| --- | --- |
| Fabric | 20x21 in (51x53 cm) hand-dyed 1904 Linen 36 ct by Weeks Dye Works |
| Threads | hand-dyed twelve-stranded Silk'n'Color threads by The Thread Gatherer: White SNC 000, Ink Black SNC 00B, Green Leaves Lt SNC 073, Slate Blue SNC 109, Pond Scum SNC 110, Dragon's Breath SNC 148, Glowing Ember SNC 292, Zimbabwe Berry SNC 315, Gold Coast SNC 316, Tuscan Olive SNC 1004, Blackened Grass SNC 1067 |
| Stitches | Cross Stitch over two and over one, Algerian Eyelet, Holbein Stitch, Eyelet Stitch over 4 |