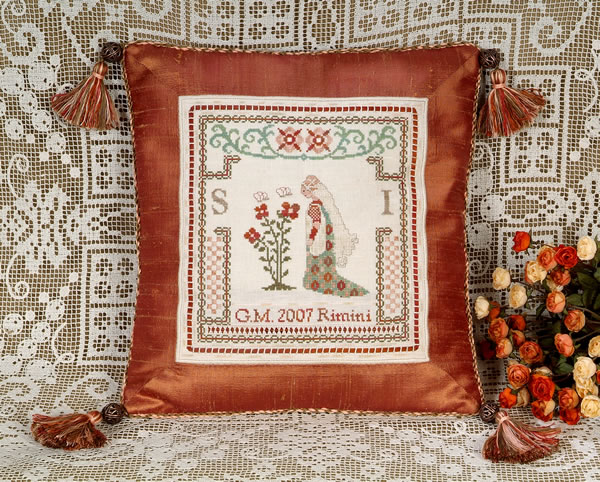 The designs, as well as the other Isotta's pieces (Isotta's Biscornu, Isotta's Strawberry Pincushion and Fob, Isotta's Sweet Bag) were created for the International Show of Lace and Embroidery 2007, held in Rimini, Italy.
To honour the town and the show, I studied Rimini's history and traditions.
Sigismondo Pandolfo Malatesta was the Seignior of Rimini from 1432.
He was not only a bold warrior, but also a poet and patron of arts.
He was in love with his third wife, Isotta degli Atti, whom he met when she was only thirteen.
Sigismondo wanted a big temple for the town of Rimini, which unfortunately was not completed, but the wonders of the temple are still there to testify Sigismondo and Isotta's history and love. A famous print of those times represents Sigismondo on his knees and Isotta standing in front of him the day when he dedicated the temple to her.
From that print I took the inspiration to design and stitch Isotta in her garden, surrounded by roses, acanthus leaves and butterflies.
The letters S and I are stitched above chequered panels and they also make a border around the sampler.
The meaning of all symbols and colors of this sampler is explained in the chart pack.
Beads:
– one package of Antique Glass Beads 03038 of Mill Hill
– two vials of Seed Pearls of Access Commodities
Silk ribbon: The Thread Gatherer Savoir Faire Ribbon one package of SF4 038 Rusty Amber.
| | |
| --- | --- |
| Fabric | 16x16 in (41x41 cm) Cream 32 ct Belfast linen of Zweigart |
| Threads | Silk'n Colors silk threads by The Thread Gatherer: 038 Rusty Amber, 100 Rose Blush, 165 Cypress Umber, 167 Prairie Winter, 9710 Latte, 9712 Summer Glow; The Thread Gatherer Silken Pearl 30/3: SP10 111 Old Lace; Waterlilies by The Caron Collection hand dyed silk threads: 106 Olive; DMC Perlè 8: one ball of Ecru |
| Stitches | cross stitch over two and over one, back stitch over two and over one, Rhodes stitch, satin stitch, Smyrna stitch, Leviathan stitch, Montenegrin stitch, Norwich stitch, Laced cross stitch bars, double back stitch. |
| Etsy Shop | Buy the PDF Chart on Etsy! Click here! |