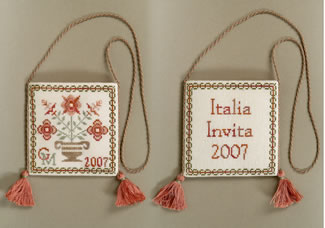 The designs, as well as the other Isotta's pieces (Isotta's Sampler Pillow, Isotta's Strawberry Pincushion and Fob, Isotta's Biscornu) were created for the International Show of Lace and Embroidery 2007, held in Rimini, Italy, every two years.
To honour the town and the show, I studied Rimini's history and traditions.
Sigismondo Pandolfo Malatesta was the Seignior of Rimini from 1432.
He was not only a bold warrior, but also a poet and patron of arts.
He was in love with his third wife, Isotta degli Atti, whom he met when she was only thirteen.
Finishing materials
DMC cotton flosses Moulinè: one skein of 522 and three skeins of 3859, Skirtex, ecru felt or light batting, finishing silk fabric.
All stitching and original finishing materials are available as a kit from Mani di Donna.
| | |
| --- | --- |
| Fabric | Cream 28 ct Emiane linen of Fratelli Graziano |
| Threads | - The Thread Gatherer Silk'n Colors: 038 Rusty Amber, 9711 Spring Blush, 165 Cypress Umber, 9710 Latte, 9712 Summer Glow - The Thread Gatherer Silken Perlè SP5: 111 Old Lace - The Caron Collection Waterlilies: 106 Olive - DMC or Finca cotton flosses: 353 DMC or 1301 Finca |
| Stitches | cross stitch over two, back stitch over two, satin stitch, rice stitch, Norwich stitch, double back stitch |