Love and Gentle Heart Sampler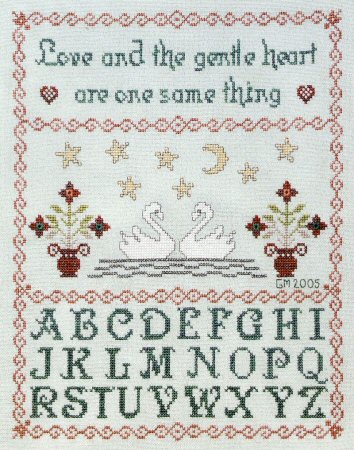 This design was inspired by a poem of Dante Alighieri:
"Amore e 'l cor gentil sono una cosa,
sì come il saggio in suo dittare pone,
e così esser l'un sanza l'altro osa
com'alma razional sanza ragione…"
from which I translated the first sentence: Love and the gentle heart are one same thing.
This sampler is dedicated to three lovely women living in Rome, my friends Rosanna, Simona e Gabriella.
I'm deeply grateful to them for their loving support and friendship and for having encouraged me to create a model for the Hobby Show of November 2005, Rome, Italy.
I have designed the chart and chosen two threads of Week Dye Works, but Simona has completed the palette of threads and found the fabric.
So this is truly a collaboration sampler and I am very proud of it.
I'm strongly convinced that we have to co-work in life and that this rule applies to needlework art too.
| | |
| --- | --- |
| Fabric | 28 cts Morning Mist Opalescent Lugana from Silkweaver |
| Threads | *Weeks Dye Works overdyed cotton threads: - one skein each of 1186 Wisteria, 1321 Williamsburg, 4125 Snowflake - two skeins each of 1332 Red Pear, 2152 Kentucky Bluegrass * DMC metallic stranded threads: - one skein each of Precious Metal Effects E168 and E317 |
| Stitches | Cross Stitch over two, Back Stitch, Pulled Eyelet Stitch |