Mary Queen of Scots – Needle Casket – Designing Ladies 2007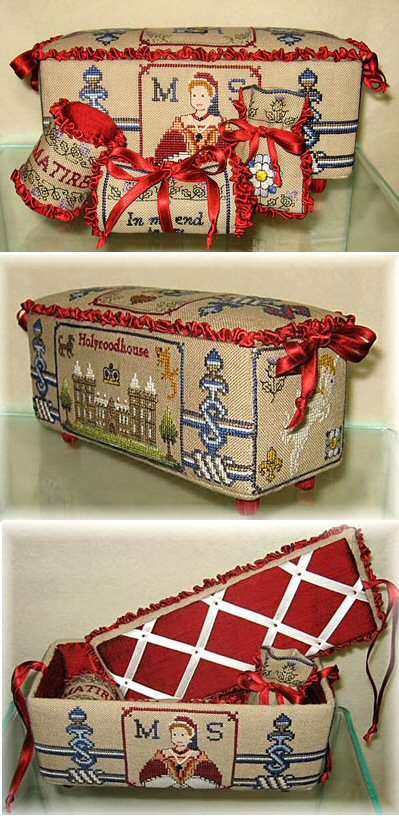 Mary Queen of Scots is my third Designing Ladies design after the Italian Renaissance Sewing Box and A Canadian Journey.
Keeping my tradition of paying a tribute to a Country, the 2007 projects took me to Scotland. I have always been fascinated by this intriguing Queen who, after having been Queen of France and Scotland, nothing else had in her power other than her needles and threads…
In my design there is a sort of historical compendium of Scottish symbols like the lion rampant and the unicorn, the Scottish crown, St Andrew's cross flag or Saltire flag, Scottish thistles (also called Guardian thistles), Tudor roses and the Holyroodhouse Palace stitched in the style of Scottish samplers.
There are also several ciphers and symbols of Mary, Renaissance twists designs inspired by fragments at Hardwick Hall, the crowned monogram of Marie Stuart, Mary's motto and anagram "Sa Vertu Matire", her famous phrase "In my end is my beginning", as well as the salamander, Mary's symbol, and the French lily to remember that she had been Queen of France. Mary is stitched in the front panel, following one of her portraits. Her necklace includes a blue cross (Mary was a catholic queen) realized with beads. The little dog depicted on the castle panel was her affectionate dog, that remained with Mary till the last minute of her life.
Beads: Petite Glass Seed Beads 40123, Antique Glass Beads 03038, Antique Glass Beads 03002 from Mill Hill
Chart pack includes designs charts and instructions in English for casket and sewing accessories.
FINISHING INSTRUCTIONS for the assembly of this casket and accessories are not included in the chart pack.
They can be found in the Designing Ladies 2007 "Needle Casket" book by Judy Odell.
Please enquire to learn where you can find the book.
| | |
| --- | --- |
| Fabric | 27x18 in (69 x 46 cm)Fawn 32 ct linen from Lakeside Linens |
| Threads | The Thread Gatherer Silk'n Colors (SNC) silk threads: 0B Black, 000 Snow Drift White, 011 Butternut Orange, 047 Willow Green, 048 Pearled Blues, 074 In The Burgundy, 087 Midnight Cobalt, 156 Dried Thyme, 161 Bear Brown, 172 Gingersnap, 316 Gold Coast, 317 Dung Paper, 1000 Wart Frog, 1012 Cinnamon Stick, 1015 Cameo Creme, 1035 Ocean Depths, 1055 Cherry Field, 1060 Miss Piggly's Purple, 9710 Latte |
| Stitches | Cross stitch over two, Cross stitch over one, Back stitch, Rounded Rhodes Stitch, Horizontal satin stitch, Diagonal satin stitch |