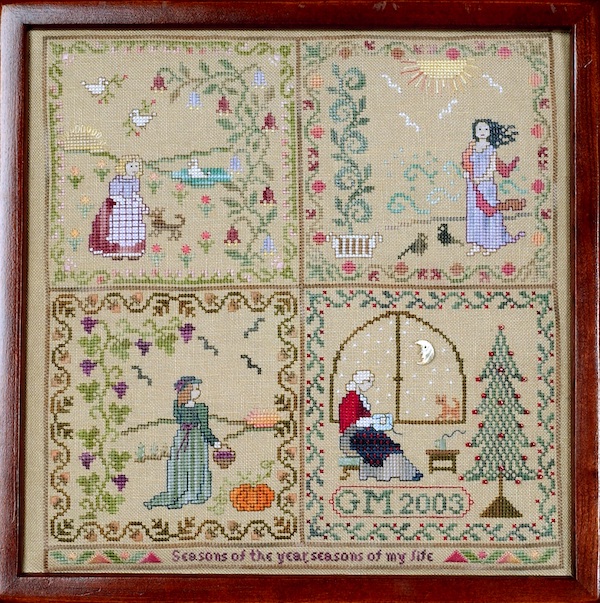 This piece as a tribute to the seasons of life.
In the Spring section the little girl is playing with her dog and in the Summer the young maiden is dreaming in the wind, near the sea, source of life, and her life is fully blowing like the green plant. In Fall the mature woman gathers fruits of her life and in the Winter section the old woman is stitching her needlework.
The table with a cup of warm tea is a symbol of hospitality and the cat in the window a symbol of freedom. The snow is falling but the queen of the night, the moon, is there, smiling at the woman. This sampler can be seen not only as the progression from childhood to old age, but also as different generations of women living at the same time in one family: a little girl and sister, mom and grandmother.
For me Spring is my childhood, Summer is my young age, Fall is my gathering season and Winter… is not there yet!
This piece is dedicated to my beloved mom, Faustina, who made my seasons great and full of love and beliefs. Even in my future winter season my mom will be with me like the moon shining in the sky. The little Crescent Moon charm represents my mom, and adds a magic light to this special winter scene.
Beads: one package of Mill Hill Glass Seeds Beads 00968 Red
Charm: one "Crescent Moon" charm (code E-MFSS), hand made Silver 925, from Giulia Punti Antichi
Box: one Cherry Trinket Box # 21 from Patches'n Plank
Thread Conversion for The Gentle Art and DMC threads included in the chartpack.
| | |
| --- | --- |
| Fabric | 15x15 in (38x38 cm) 32 ct Meadow Rue linen from Lakeside Linens |
| Threads | Atalie Fil à Broder cotton threads: Adonis, Camelia, Ciel, Corail, Cypres, Ecorce, Encre, Jais, Lagoon, Lavande, Maïs, Maquis, Mimosa, Mousse, Muguet, Orchidee, Ortie, Passion, Pivoine, Poudre, Prunelle, Rose, Rouille, Sapin, Sauge; |
| Stitches | Cross Stitch over two and over one, Back Stitch, Vertical and Diagonal Satin Stitch, Chain Stitch, Star Stitch, Herringbone Stitch. |