My Quaker Style Basket & Accessories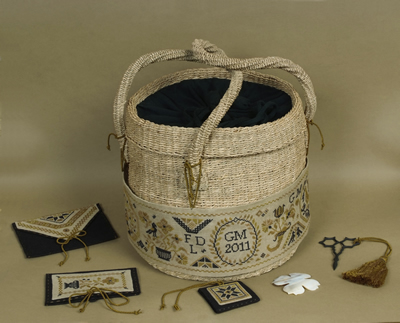 I always loved Quaker motifs and I decided to design a Quaker style basket with sewing accessories.
This sewing set has a round basket with a stitched external wall band and three needlework accessories: scissor etui, needlebook, envelope case.
The original basket was a twisted seagrass basket with silk lining Boca Collection small (10" h x 10" diameter) 1-1611 Black available from Lantern Moon. A substitute basket should have 37″ circumference if stitching on 30 ct linen. The length of the band will diminish if using a higher count linen (e.g. 32 ct or 35 ct, etc.)
Quaker Stitches pins: jp124, set of five pins from Just Another Button Company.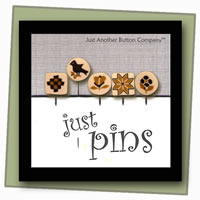 Gold Quaker Star button sc1051.s from Just Another Button Company.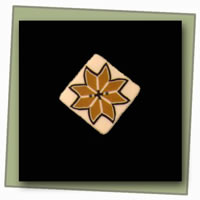 Steweb Scissors 3.75″ – handle holes shaped like spiderwebs or The Love Scissors with handle holes in the shape of hearts – 4″ long: from Kelmscott Designs.
Celtic Flower thread winder: from Kelmscott Designs.
Accessories, stitching and finishing materials are not included in chartpack.
Chartpack includes designs, charts, instructions for stitching and finishing the basket band and sewing accessories, DMC thread conversions.
| | |
| --- | --- |
| Fabric | 14x38 in (35.5x96.5 cm) 30 ct hand dyed linen Broomstitck Brown from R & R Reproduction |
| Threads | Designer Collection – Set 2 "My Quaker Style & Accessories" for Giulia Punti Antichi by Valdani Inc.. Each set contains 9 different 12x27m balls of Hand-Dyed Dimensional Solids 3-Strand FlossTM: 7 balls of Tarnished Gold P5 and 2 balls of Black Dark 8113 |
| Stitches | Cross stitch over two, Backstitch, Smyrna stitch, Double cross stitch over six, Buttonhole loop |