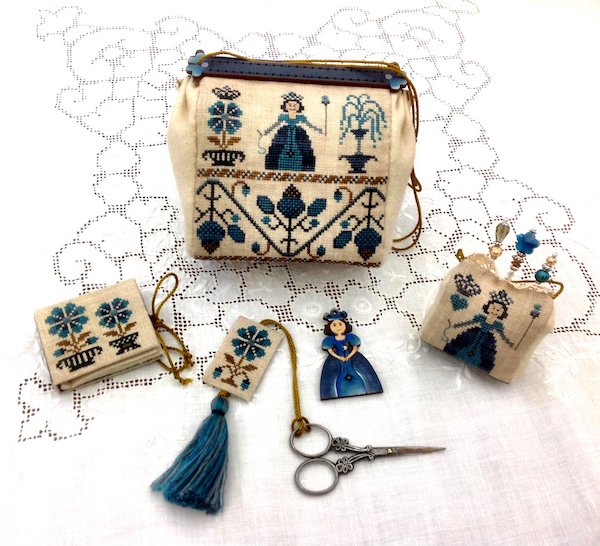 Gather me Up! – A collaboration project of Giulia Punti Antichi and Mani di Donna
This design is a product of a shared finishing idea to create a needlebook, pincushion and scissor fob.
It was design my the Queen City Sampler Guild, located in Cincinnati, a.k.a. the Queen City. One of Cincinnati's most important monuments is the fountain The Genius of Water in Fountain Square, which is why I decided to represent queen and fountain in my design.
Hand-painted wooden rods to close the purse are included in the chartpack.
Wooden needleminder by Stitched Tales (Elisabetta Fugazza) and pins by Roberta Dazzini are not included in chartpack. Available for purchase at Giulia Punti Antichi.
| | |
| --- | --- |
| Fabric | 14x18 in (35x45 cm) 1173 Confederate Grey 32 ct hand-dyed linen by Weeks Dye Works |
| Threads | hand-dyed six-stranded cotton flosses collection by Weeks Dye Works: 1230 Havana, 1281 Ocean, 1285 Twilight, 2103 Pea Coat, 2500 Sand, 3960 Teal |
| Stitches | Cross Stitch over two and over one, Back Stitch, Rhodes Stitch over 6, Round Rhodes Stitch over 6 |