Queen Sofia's Sewing Bag and Chatelaine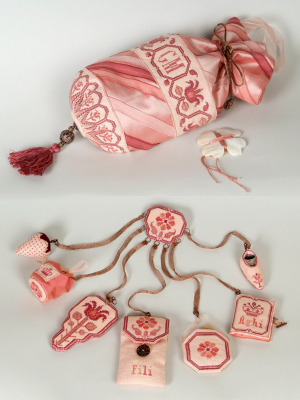 Queen Sofia's Sewing Bag and Chatelaine are a reminder of the history of fashion in dress when ladies used chatelaines and hand bags to carry valuable tools.
Chatelaines were made of silver, silver plate, brass or steel and even leather or fabric.
There was a large central buckle pierced or engraved with a hook to attach to the waistband.
Usually three, five, or sometimes even seven chains were suspended from the buckle, and to the chains could be attached useful small accessories.
Chatelaines were worn until the end of nineteenth century, when new dresses appeared with no waist line or place for chatelaines.
In 1890, the term "hand bag" was first used for a bag that was carried rather than worn.
A new important accessory was born!
Still nowadays, with modern materials and loving heart, we can create a bag and a chatelaine meant to be admired and kept as a precious token of love. This is the reason why Queen Sofia's Sewing Bag and Chatelaine were born, to remind the history of fashion in dress and the skill of artisans of those times.
Included in the chart:
– Complete stitching and finishing instructions for bag and chatelaine
– Templates and chart for layout placement of pieces on linen fabric
The suggested retail price of the chart pack is €/US$ 23.00 and does not include fabric, threads or finishing supplies.
The following items available through Mani di Donna:
– Finishing kit for the bag (QSSB-BFK) with designer silk fabric, Bamberg fabric, plastic button, all copper beads, metallic copper cord and peach organza ribbon
– Finishing kit for the chatelaine (QSSB-CHFK) with Bamberg fabric, flesh and wine felt, mother of pearl button, all copper metal components, copper ribbon and organza ribbon
– Lavender scented waxer (QSSB-W)
– Hand cream vase (QSSB-HC)

| | |
| --- | --- |
| Fabric | 32 cts Crystal Peach Belfast linen from Zweigart |
| Threads | hand dyed cotton threads from the Olde Willow Stitchery Threads #5 skeins of 036 October, #2 skeins of 109 Vampire's Kiss, #3 skeins of 228 Schaklewell Wine, #5 skeins of 234 Mulberry |
| Stitches | Cross Stitch over two, Back Stitch over two, Eyelet Stitch, Nun's Stitch, Queen Stitch, Overcast Stitch and Chain Stitch. |