September 11th Tribute Sampler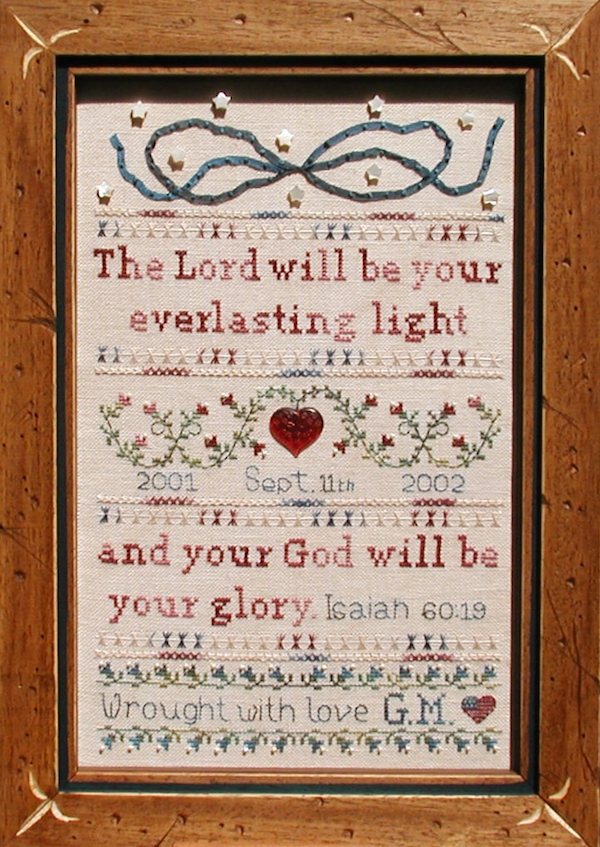 This little sampler is dedicated to the 1st Anniversary of Sept. 11th and it is realized with different stitches, beads and glass charm.
Mother of pearl stars and stripes, and the blue silk ribbon bow attached with big French knots, are in the first band, depicting the USA national symbolism. The middle band includes a glass heart from Mill Hill, representing our heart, God's heart and blood of victims, surrounded by a border of red flowers.
The sentence "The Lord will be your everlasting light and your God will be your glory" is the most loving religious sentence I found to remember the victims after one year. People from many Countries and religions died during the attacks and the sentence is suitable for all of them. The last sentence in the blue flower border is my signature and final tribute and it ends with a little heart with the USA flag.
The Sorbello stitch lines are my special Italian touch of love.
Silk Ribbon:
-one package of The Thread Gatherer Silken ribbon: SR4 006 Stormy Skies
Beads:
– one package of Glass Seed Beads # 00123 Cream from Mill Hill:
Glass Treasure:
– one Glass Heart charm # 12115 from Mill Hill
Mother of pearls stars:
– ten mother of pearls stars medium size (1/4″) from Access Commodities
| | |
| --- | --- |
| Fabric | 15.25x11 in (38.7x28 cm) 28 ct Daytona Sand hand dyed linen from R & R Reproductions |
| Threads | The Thread Gatherer Silk'n Colors silk threads: 006 Stormy Skies, 040 Nan's Mulberry, 087 Snow Crème, 090 Green Leaves, 132 Old Glory |
| Stitches | Cross Stitch over two and over one, Back Stitch, Butterfly Chain Stitch, Sorbello Stitch. |