The Frog Prince – Stitcher's Evening Bag – Designing Ladies 2009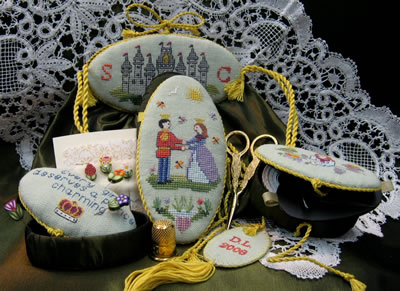 An enchanting naïf sewing purse with tape measure case, scissors bed, pinbox/pincushion, and scissors fob designed by Sofia Cornali for the Designing Ladies 2009 project of Judy Odell. Stitched with Weeks Dye Works and The Gentle Art flosses on Vintage Patina linen from Lakeside Linen.
For this special piece, we commissioned six lovely Flower pins and a wonderful Cameo Floral waxer.
Please ask our Company if you wish to purchase these accessories.
Chart pack includes designs charts and instructions for purse and sewing accessories.
Finishing instructions are not included
FINISHING INSTRUCTIONS for the assembly of this Stitcher's Evening Bag can be found in the "Designing Ladies 2009 Finishing Instruction Book" by Just A Thought from Judy Odell. The book walks you, step-by-step, through the assembly process using written instructions, pictures and hot tips along the way.
Judy is a professional finisher and if you have any questions regarding the finishing of your Stitcher's Evening Bag you can e-mail her at and she will be happy to help you in any way she can.
She has a complete finishing kit for this Stitcher's Evening Bag and offers professional finishing for you if you choose not to do the finishing yourself. You can visit her at www.justathought.net
NOTE: if you choose to add cording to your evening bag as is pictured on the model you will need 10 skeins of DMC floss number 3821.
| | |
| --- | --- |
| Fabric | Vintage Patina 32 ct linen from Lakeside Linens 13 inches wide by 13 ½ inches high (33 x 34.3 cm) |
| Threads | - one skein each of Weeks Dye Works cotton flosses: 1091 Whitewash, 1137 Rose Quartz, 1154 Graphite, 1193 Guacamole, 1307 Americana, 1329 Blackberry, 2019 Morris Blue, 2159 Seaweed, 2220 Curry, 2228 Pumpkin, 2245 Grapefruit, 2256 Adobe, 2334 Lilac, 2343 Dutch Iris, 3900 Kohl, 4111 Lucky - one skein of The Gentle Art cotton floss Sampler threads: 1020 Pebble |
| Stitches | Cross stitch over two and over one, Back stitch over two and over one, Satin stitch, Lazy Daisy stitch, Sofia's stitch. |