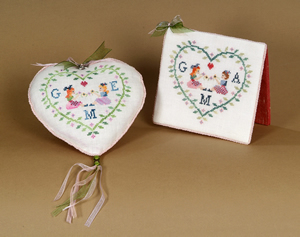 The first release of this design, a private version, was done for Chiara and Laura, the daughters of my friend Gabriella, co-owner of Mani di Donna, Rome, Italy.
She asked me to design something for the First Communion of her daughters and this is why the design was born.
I stitched my pillow version with the initials of Alfonsina, my dearest sister, and of myself.
The flat-fold version carries the initials of Enrica, my other dearest sister, and myself. The finishing was done in two different ways to give two options for stitchers.
Finishing materials:
– Pillow version: dark rose felt, fibrefill, pink cord, green and pink organza ribbons, Cherub charm, assorted beads
– Flat-fold version: pliable felt or cardboard, deep pink Dupioni silk, pink cord, green and pink organza ribbons, assorted beads for tassel
All stitching and original finishing materials are available as a pillow or flat-fold kit from Mani di Donna.
| | |
| --- | --- |
| Fabric | Cream 28 ct Emiane linen of Fratelli Graziano |
| Threads | - Pillow version with Sampler Threads of The Gentle Art: Adobe, Blue Jay, Orange Marmalade, Poinsettia, Black Crow, Mistletoe, Burnt Orange, Bubblegum, Morning Glory, Spring Grass - Flat Fold version with Simply Shaker Threads of The Gentle Art: Lambswool, Freedom, Harvest Moon, Pomegranate, Black Raspberry Jam, Green Apple, Fragrant Cloves, Tea Rose, Liberty, Green Pasture, Sarsaparilla |
| Stitches | cross stitch over two, back stitch over two |