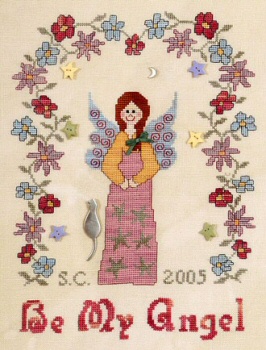 My daughter Sofia has designed this joyful angel for a special and joyful young woman, Valentina Giumelli. The cat and the moon charms are based on original design of Valentina.
Valentina's life was interrupted at the age of 26 by a frightening flight crush in Linate airport, Milano, Italy, on October 8th 2001. She was going to Denmark to complete her thesis for the degree in Engineering, but her life ended on that day with all her happiness and hopes. Her parents, Serena and Claudio have collected her designs, greeting cards and collages in a special book and it is amazing to see how from simple paper and colors she could create so much, always with a happy heart.
In these last years her parents have dedicated their hearts and souls to organize cultural events, raise funds and create scholarships dedicated to her.  A non profit association "pro Valentina Onlus" was created in 2002, to help people in need and promote cultural events in her memory. Many things were done to remember this beautiful and gifted young woman, and this little Valentina's Angel is a token of love from an eleven-year old girl to a beautiful angel in Heaven.
With the same spirit of Valentina's parents, all net proceedings of this pattern will be given for charity purposes.
Buttons of Just Another Button Company:
– two buttons each: 3462 Butter Star, 3463 Pale Sage Star, 3464 Periwinkle Star
Polyester green ribbon 1/8″ H for braid bow
| | |
| --- | --- |
| Fabric | 15.5x20 in (39x51 cm) 32 ct Vintage Pearled Barley from Lakeside Linens |
| Threads | The Gentle Art Simply Shaker Sampler Threads: Aged Pewter 7032, Gingersnap 7034, Harvest Moon 7033, Pomegranate, Tea Rose 7035; The Gentle Art Sampler Threads: Apricot Blush, Black Crow, Holly Berry, Morning Glory |
| Stitches | Cross Stitch, Back Stitch |