A Ballerina's Dream- Designing Ladies 2006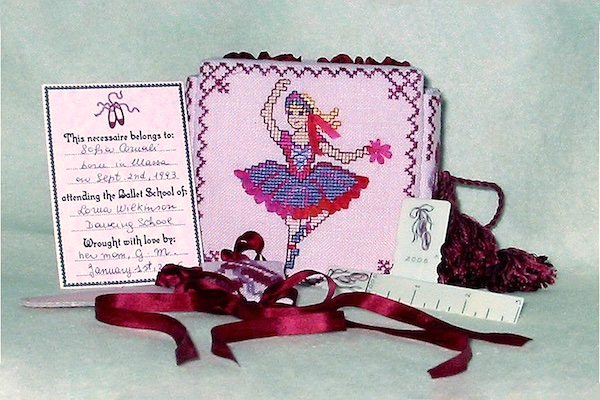 A Ballerina's Dream has been created as a love tribute to classic ballet, teachers and dancers. Dancers need to sew their ribbons and fix their shoes in a proper way and the necessaire is just for these purposes. There are four ballerinas from famous ballets: Giselle, Petrouska, Firebird and Swan Lake. Point shoes are all over, inside center band, side bands, charms, scissors fob and the holder's card. The pincushion design is based on the music sheet of the Nutcracker Ouverture Miniature by P.I. Tchaikovsky. So there are true musical notes but…… with glass beads!
The scissors pocket displays usual clothes made just for dancing, the initials of the designer and the year of completion of the stitched design. The thread curtain represents a dancer with musical notes and treble clef charms. On the needle page cover Sofia wanted the name of her beloved school and her date of birth. We give an alphabet with numbers to personalize the necessaire.
The necessaire is dedicated to Mrs. Lorna Wilkinson and her daughter Barbara Bottaini, the wonderful teachers of the Lorna Wilkinson Ballet School, Massa, Italy. They taught Sofia how to practice and enjoy ballet following rules, classical positions and modern interpretation. These two special women will always be in her heart and dreams.
Beads: one package of Antique Glass Beads of Mill Hill 03034 Royal Amethyst beads
INCLUDED IN THE CHART PACK:
Holder's card
Ribbons and special threads by The Thread Gatherer:

SR4 Silk ribbons: 147 Hummingbirds and Hollyhocks (pink-red), 151 Sprite Grass (green), 199 Orange Grove (orange)
Wooly Whites: WH 012 Eyelash Beard (fuzzy white and shining)

Color photos of all sections and outside panels: to show the ribbon work
Charms: Treble Clef, Music Note, Ballet Shoes
Alphabet and Numbers Chart: to personalize the necessaire
SEWING ACCESSORIES & FINISHING INSTRUCTIONS ARE NOT INCLUDED
FINISHING INSTRUCTIONS:
Finishing instructions for the assembly of this necessaire can be found in the "Designing Ladies 2006 Finishing Instruction Book" by Just A Thought of Judy Odell.
Please enquire at if you need finishing instructions.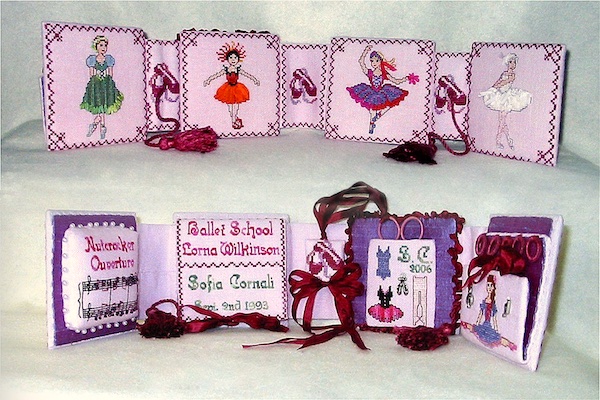 | | |
| --- | --- |
| Fabric | 36x18 in (91x45.5 cm) French Lilac 32 ct linen from Lakeside Linens |
| Threads | The Thread Gatherer Silk'n Colors SNC silk thread: 000 Snow Drift White, 00B Ink Black, 010 Lemon Soufflé, 021 Sweet Pea, 048 Pearled Blues, 084 Fairy Rose, 087 Midnight Cobalt, 147 Hummingbirds and Hollyhocks, 168 Solar Flair, 190 My Lady's Violet, 195 Gartenfarn, 305 Lotus Flower, 315 Zimbabwe Berry, 1012 Cinnamon Stick, 1015 Cameo Creme |
| Stitches | Cross Stitch over two and over one, Back Stitch, Chain Stitch, French Knot. |