A Christmas Doll Pincushion & Thimble Purse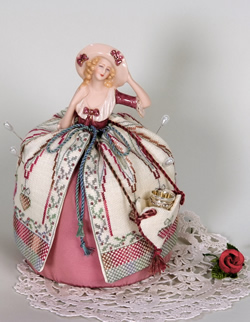 I decided to stitch a Christmas tuned pincushion doll and thimble purse as a special token of love for kids bearing serious diseases.
I was deeply touched to know that Make a Wish International is taking care of making special wishes coming true for these kids in need, with the strong convincement that wishes, dreams and projects can boost their immune defences and their psychological strength to fight diseases.
A special donation to Make a Wish International will be given out of the sales of this design, for the true happiness of these unfortunate kids.
Please, join us!
Beads: Petite Glass Beads 42012 by Mill Hill
Porcelain half doll size 3″ (7.5cm), from Half Doll Heaven or any other porcelain half doll.
| | |
| --- | --- |
| Fabric | Cream Northern Cross 35 ct linen 14 ¼ x 6 in / 36.2 x 15.2 cm |
| Threads | Waterlilies silk threads 101 Cherry, 112 Fir by The Caron Collection |
| Stitches | Cross stitch over two, Back stitch, Laced cross stitch bars |