A Sampler Doll Pincushion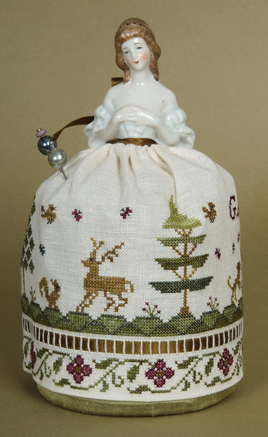 This is my third design for a pincushion doll and I really enjoyed stitching it with the fabulous Gloriana Threads over the wonderful linen by Manifattura Tessile Sotema, Italy. This model is dedicated to my lovely niece Lucia, with hugs and …lots of love!!!
Chartpack includes stitching and finishing instructions, and threads conversions for DMC and WDW cotton threads.
Even though the final result might be slightly different from the original, WDW cotton threads give a better match with the original model as compared with DMC threads.
The doll was obtained by an antiques dealer. You can find dolls in antiques shops, eBay or you may find a similar doll on BrierRose.
| | |
| --- | --- |
| Fabric | 1 piece of 17 ½ x 8 ½ in (45 x 21.5 cm) Etruria 35 ct ecrù linen by Sotema |
| Threads | one skein each of seven stranded hand-dyed Florimell silk threads from Gloriana: Vanilla 003, Spanish Moss 048, Granny Smith Green 053, Cranberry 062, Elizabethan Green 117, Pacific Blue Dark 173, Aubergine 174, Birch Brown 186, Carmine Rose 205, Olivine 206. |
| Stitches | Cross Stitch, Backstitch Drawn thread work |