Alayne – 2012 New Year Pincushion Doll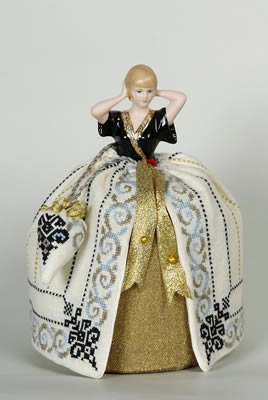 The name of this doll is Alayne, as a special token of love for my dearest friend Alayne, living in San Juan Capistrano, California.
My daughter Sofia was hosted in her home for almost a year when she was an exchange student in the States.
Sofia was very happy with Alayne and her amazing family.
I love to say that my daughter has two dads and two moms, plus three US sisters and….pets!
This pincushion doll is as shining and bright as my wonderful friend and it is stitched with one fabulous hand dyed cotton thread of Romy's Creations, over the wonderful linen by Sotema, Italy.
Porcelain half doll: Marylin, size 3 in (7.5 cm), from Half Doll Heaven.
| | |
| --- | --- |
| Fabric | 17.5x8.5 in (45x21.5 cm) Etruria 35 ct ecrù linen by Sotema (for skirt); 4x4 in (10x10 cm) Etruria 35 ct ecrù linen by Sotema (for pincushion) |
| Threads | six stranded hand-dyed cotton thread from Romy's Creations: Nougat Blue; DMC Black 310 stranded cotton; DMC Diamant Metallic thread Gold D3852 |
| Stitches | Cross Stitch |