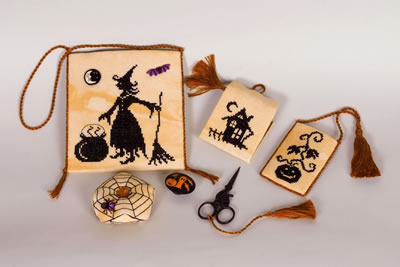 This is a special sewing set with a purse, a scissors case and tassel fob, a needle- pins etui, and a pincushion biscornu.
It has been stitched with 310 Black DMC stranded cotton floss on hand-dyed linen fabric, and finished with DMC Color Variation 4130 six stranded cotton floss.
Lovely pins, buttons, scissors and needle minder are perfect for this easy stitching piece.
The step by step finishing information are detailed and easy to follow.
FINISHING INSTRUCTIONS included in the chart pack.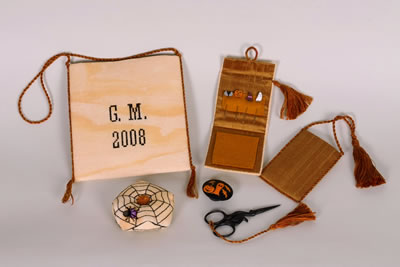 Materials for finishing:
– copper Dupioni silk fabric
– four skeins of DMC Color Variation 4130 six stranded cotton floss
– one 2 x 2 in / 5 x 5 cm and one 2 x 1 in / 5 x 2.5 cm pieces of wool felt (pumpkin color)
– one orange Mother-of-Pearl button from Mani di Donna (the original button of the biscornu is carved and measures 5/8 in / 1.5 cm)
– one each of the following buttons from Just Another Button: 3422.L, 1137, 3422.S, 1153.L
– Skirtex, 1/8 in / 3 mm thick quilt batting, interfacing, Iron-on adhesive, matching sewing threads, strong polyester thread matching with the linen fabric, acid free stick glue.
Accessories

– one set of four Halloween pins from Mani di Donna (special edition created by Butterfly Couture)
– one Boo! Needle Minder from Kelmscott Designs
– one black Smiling Cat Scissors from Uncommon Scissors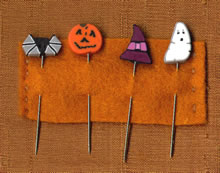 | | |
| --- | --- |
| Fabric | vintage Sugared Ginger 28 ct linen from Lakeside Linens 27 x 12 in (68.5 x 30.5 cm) |
| Threads | 310 Black DMC six stranded cotton floss |
| Stitches | Cross stitch over two, Back stitch |