Betsy Ross – A Patriotic Pincushion Doll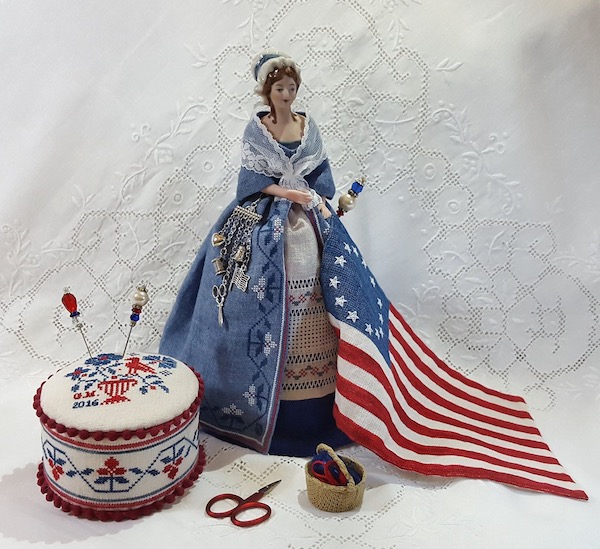 TEACHING PROJECT: AVAILABLE FOR CLASSES ONLY
Please write at to learn more about the classes.
This model is dedicated to my beloved friend Elaine Kevin, owner and artist at BrierRose, who has created for me the beautiful Betsy Ross porcelain doll. This limited edition doll can only be purchased through Giulia Punti Antichi, together with the kit. Kit and doll cannot be sold separately: we wouldn't want to separate Betsy Ross from her flag!
Pins, magnets and chatelaine made by Roberta Dazzini, available at Giulia Punti Antichi.
| | |
| --- | --- |
| Fabric | 36 ct hand-dyed linen 2107 Blue Jeans from Weeks Dye Works: (for skirt) 17.25x8.75 in (44x22 cm); (for blouse) 6.75x6.75 in (17x17 cm). 36 ct hand-dyed linen 1094 Linen from Weeks Dye Works: (for apron, flag and footstool) 16x21 in (41x53 cm) |
| Threads | hand-dyed six-stranded cotton Floss Collection skeins from Weeks Dyes Works: 1091 White Wash, 1301 Americana, 2107 Blue Jeans, 2258 Aztec Red, 2266a Louisiana Hot Sauce |
| Stitches | Cross stitch over 2 and over 1, Smyrna Stitch, Closed Herringbone Stitch over 2 and over 4, Eyelet Stitch over 6, Modified Pulled Four-sided Stitch, Drawn thread work and alternating double hemstitch |