Sophia Amelia – A Colonial Williamsburg Pincushion Doll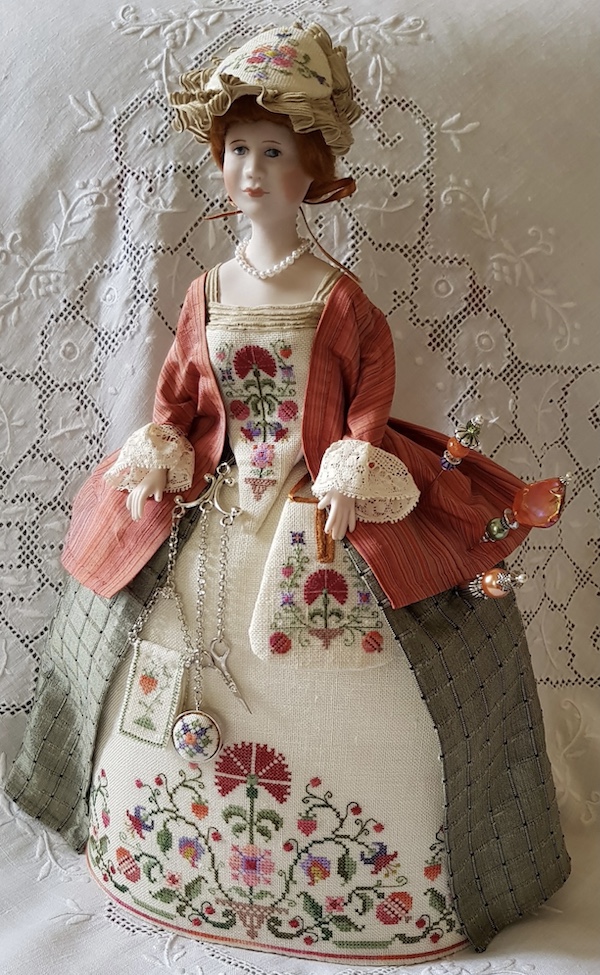 TEACHING PROJECT: AVAILABLE FOR CLASSES ONLY
Please write at to learn more about the classes.
This model is dedicated to my beloved daughter Sofia, with all my love.
This limited edition doll by BrierRose can only be purchased through Giulia Punti Antichi, together with the kit. Kit and doll cannot be sold separately.
Pins and chatelaine made by Roberta Dazzini, available at Giulia Punti Antichi.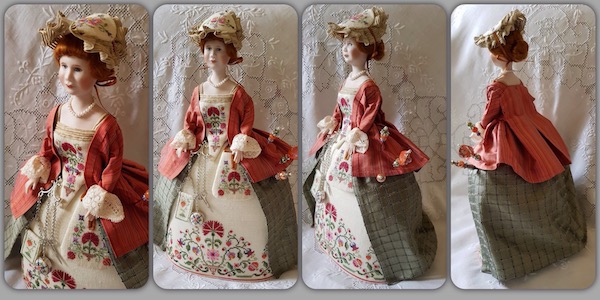 | | |
| --- | --- |
| Fabric | 17.4x26 in (44x66 cm) Etruria 35 ct Ecru linen by Sotema |
| Threads | one skein each of twelve-stranded hand-dyed Silk'n'Colors by The Thread Gatherer: Coral Shells SNC 041, Camouflage SNC 055, Pond Scum SNC 110, Christmas Pines SNC 231, Blood Moon Rising SNC 344, Blueberry Pie SNC 351, Raspberry SNC 353, Maple Syrup SNC 364; conversion for DMC threads available in the chart |
| Stitches | Cross Stitch over 2, Cross Stitch over 1, Backstitch, Smyrna Stitch over 2, Smyrna Stitch over 4, Rhodes Stitch over 3, Rhodes Stitch over 4, Rhodes Stitch over 6, Round Rhodes Stitch over 6, Pulled Eyelet Stitch over 6, Closed Herringbone Stitch over 2, Nun's Stitch |