Blue Romance Sewing Set & Purse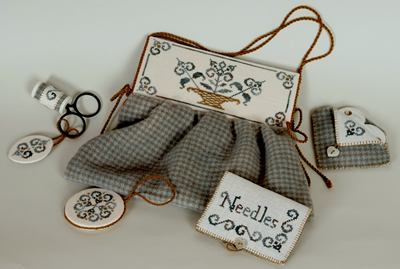 This sewing set has lovely purse with a front and back band closure, embroidered inside and outside, and five needlework accessories.
Accessories (not included in chartpack):
The beautiful matte black Putford Scissors and the Heart Thread Keep from Kelmscott Designs are perfect additions to this sewing set.
Matching Blue Romance Pins (set of three) by Butterfly Couture available from us.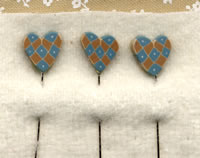 Chart pack includes designs charts and instructions for stitching and finishing the purse and the sewing accessories.
| | |
| --- | --- |
| Fabric | 18 x 27 in (45.7x68.5 cm) 30 ct linen 1094 from Weeks Dye Works |
| Threads | beautiful hand dyed twelve-stranded Silk'n'Colors silk threads from The Thread Gatherer: Finnigen's Fog SNC 083, Bronze Age Green SNC 154 |
| Stitches | Cross stitch over two, Buttonhole stitch (or Blanket stitch), Button-hole bar loop |
| Etsy Shop | Buy the PDF Chart on Etsy! Click here! |