Blue Romance Sewing Set & Purse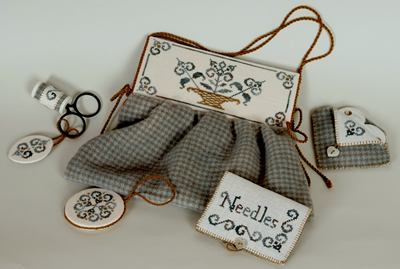 This sewing set has lovely purse with a front and back band closure, embroidered inside and outside, and five needlework accessories.
This model is stitched with variegated hand dyed silk threads by The Thread Gatherer.
I always desired to be a teacher at The National NeedleArts Association shows and this is the reason why I designed a small set of sewing accessories for a class in Nashville.
My goal was to show that finishing can be simple or primitive, but still classy.
My original set was formed by a scissor tip "etui" or scissors stand, a needlebook, and a thread keeper etui.
When I was informed that I had been accepted as a TNNA teacher for the 2010 Nashville show, I decided to complete the set with a pin keep, a scissors fob and a little purse to hold all the sewing accessories.
I want to dedicate my design to The National NeedleArts Association.
Established in 1975, TNNA is an international trade organization representing all professional businesses by encouraging the passion for needlearts through professional and consumer education, industry knowledge exchange and a strong marketplace.
List of finishing materials to purchase: 18 x 11 in (fat eighth) / 45.8 x 28 cm WDW wool fabric collection 1171 HT Dove from Weeks Dye Works, ecru silk finishing fabric, strong ecru cotton fabric, interfacing, Skirtex, Iron On Adhesive, ecru wool felt, cordings (either pre-made cordings or made with four skeins of SP10 Bronze Age Green or four skeins of 830 DMC stranded cotton threads), one medium (5/8 in / 1.5 cm) Mother of Pear button, one small ( ½ in / 1.2 cm) Mother of Pear button, 1 ¾ in / 4.5 cm high – 7/8 in / 2.3 cm diameter plastic thread spool or wooden spool, ecru and bronze polyester sewing thread, acid free stick glue, Tacky Glue, lightweight acid free cardboard.
Accessories (not included in chartpack):

– The beautiful matte black Putford Scissors and the Heart Thread Keep from Kelmscott Designs are perfect additions to this sewing set.
– Matching Blue Romance Pins (set of three) by Butterfly Couture available from us.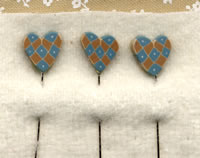 Chart pack includes designs charts and instructions for stitching and finishing the purse and the sewing accessories.
| | |
| --- | --- |
| Fabric | 30 ct linen 1094 from Weeks Dye Works: stitcher's quarter 18 x 27 in / 45.7 x 68.5 cm |
| Threads | beautiful hand dyed silk threads from The Thread Gatherer: two 7 y skeins Finnigen's Fog SNC 083, one 20 y skein Bronze Age Green |
| Stitches | Cross stitch over two, Buttonhole stitch (or Blanket stitch), Button-hole bar loop. |