Cecelia – A Romantic Pincushion Doll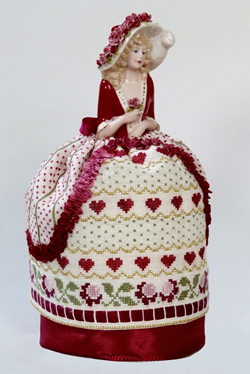 This is a gorgeous pincushion doll stitched with the fabulous The Thread Gatherer threads and ribbons over the wonderful linen by Manifattura Tessile Sotema, Italy.
This model is dedicated to my beloved friend Cecelia, with hugs and …lots of love!!!
Ribbons for finishing: one SR7 040 Nan's Mulberry silk ribbon and one SR7 315
Zimbabwe Berry silk ribbon from The Thread Gatherer.
Chartpack includes original linen fabric, stitching and finishing instructions, and threads conversions for DMC and The Gentle Art cotton threads.
Even though the final result might be slightly different from the original, TGA cotton threads give a better match with the original model as compared with DMC threads.
| | |
| --- | --- |
| Fabric | 1 piece of 17 ½ x 8 ½ in (45 x 21.5 cm) Etruria 35 ct ecrù linen by Manifattura Tessile Sotema, included in the chartpack. The fabric includes seam allowances. |
| Threads | - one skein each of twelve stranded hand-dyed Silk'n Colors silk threads from The Thread Gatherer: Ecru SNC 00E, In The Burgundy SNC 074, Dried Thyme SNC 156, Scent of Rose SNC 186, Kringle's Coat SNC 280 - one spool of: DMC Diamant Metallic thread Gold D3852 |
| Stitches | Cross Stitch, Backstitch Drawn thread work. |