Norma June – A Pilgrim Pincushion Doll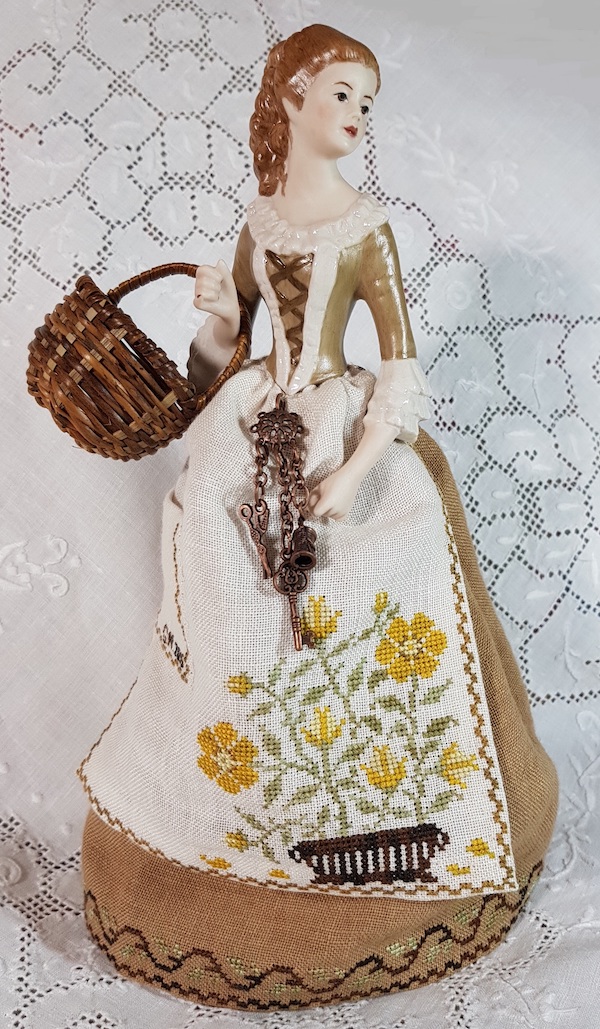 This pincushion doll has been designed as a special token of love for my dearest friend Deb Jochim, Editor of Punch Needle & Primitive Stitcher Magazine, and dedicated to her mother-in-law, Norma June.
The doll is available from Half Doll Heaven under the name of Norma June.
A unique miniature chatelaine has been made for this doll by my friend Roberta Dazzini (available from Giulia Punti Antichi).
| | |
| --- | --- |
| Fabric | (for skirt) one 20x9.5 in (51x24 cm) 35 ct Mocha hand-dyed linen from Weeks Dye Works; (for apron) 8x9 in (20x23cm) 35 ct Linen hand-dyed linen from Weeks Dye Works; (for apron pocket) 4x4.25 in (10x10.7 cm) 35 ct Linen hand-dyed linen from Weks Dye Works |
| Threads | hand-dyed stranded cotton skein: Pumpkin Seed, Three Fairies Green, Mommy's Mustard, Teddy Bear, Coffee from Romy's Creations |
| Stitches | cross stitch, backstitch |