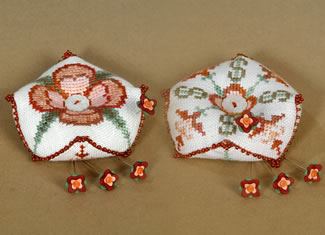 Inside the Isotta's Biscornu there are four-petal roses and the letters S and I make a décor in one side.
To remember the Riminese tradition of deying fabrics with rust, and also the colours of Malatesta, the biscornu is tuned on shades of rust, pearl, pale rose and green.
I guess Isotta would have been proud to see her biscornu…
The designs, as well as the other Isotta's pieces (Isotta's Sampler Pillow, Isotta's Strawberry Pincushion and Fob, Isotta's Sweet Bag) were created for the International Show of Lace and Embroidery 2007, held in Rimini, Italy, every two years.
To honour the town and the show, I studied Rimini's history and traditions.
Sigismondo Pandolfo Malatesta was the Seignior of Rimini from 1432.
He was not only a bold warrior, but also a poet and patron of arts.
He was in love with his third wife, Isotta degli Atti, whom he met when she was only thirteen.
Sigismondo chose many symbols and colors to represent himself: a cipher made by the letter S and an interwoven I, probably for the first two letters of his name, and, as a coincidence, for the first letter of Isotta's name; the acanthus leaves; green, white and red colors; and most of all the four-petal and four-sepal rose, called Rosa Quadripetala or Malatestiana or Fiore Pandolfesco, to claim the descent from the Scipioni family, a famous Latin family, whose symbol was a rose.
| | |
| --- | --- |
| Fabric | 5x9.5 in (12.5x25 cm) Cream 28 ct Emiane linen by Fratelli Graziano |
| Threads | hand dyed silk threads by The Thread Gatherer: 038 Rusty Amber, 9711 Spring Blush, 165 Cypress Umber, 9712 Summer Glow; by The Caron Collection: 106 Olive |
| Stitches | cross stitch over two, back stitch over two |
| Etsy Shop | Buy the PDF Chart on Etsy! Click here! |