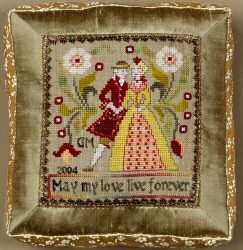 This piece is dedicated to the town of Williamsburg, VA USA and it was inspired by a seventeenth century bandbox of the Colonial Williamsburg Foundation.
Bands or cuffs were stored in lightweight boxes made of thin sheets of wood and for this reason these boxes were called "bandboxes".
Some bandboxes were gifts of affection with lovely inscriptions, like "May my love live forever".
The original antique bandbox, made about 1800, that inspired this design, is part of the Abby Aldrich Rockfeller Folk Art Museum collection at Colonial Williamsburg.
Pillow: Regency Pillow PLL-70 from Linens and Lace (no longer in production, to be made with trims and ribbons around the stitched area).
| | |
| --- | --- |
| Fabric | 7x7.75 in (18x20 cm) 28 ct Natural Raw Linen by Zweigart |
| Threads | Thread Gatherer Silk 'n' Colors: 010 Lemon Soufflé, 011 Butternut Orange, 031 Soft Apricot, 058 Strawflower, 074 In the Burgundy, 110 Pond Scum, 133 Ozark Spring, 135 Curried Mustard, 156 Dried Thyme, 161 Bear Brown, 165 Cypres Umber, 983 Autumn Bouquet; Kreinik Silk Mori: 9032 Lightest Neutral Flesh |
| Stitches | Cross Stitch over two and over one, Back Stitch, Eyelet Stitch, Rhodes Stitch, Chain Stitch, Double Back Stitch |