My Tuscany: a Shaker Box in Italy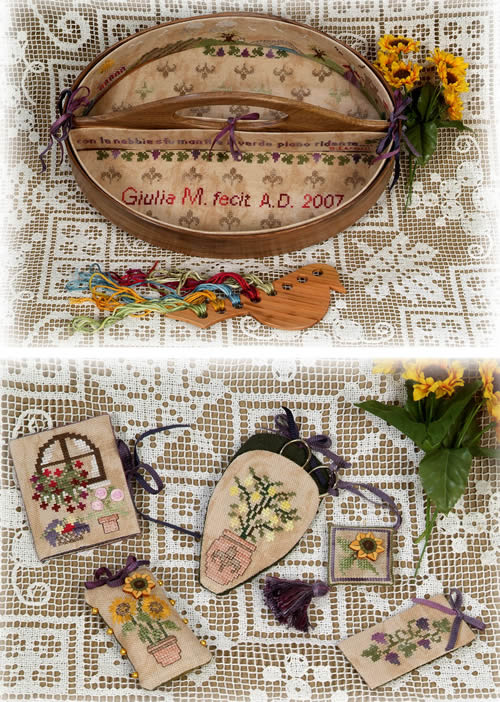 Special edition design ordered by Casa Cenina for the Festa del Ricamo 2007 (Embroidery Feast 2007).
A complimentary design "Sun…flowers" will be added to the purchase from Casa Cenina.
The box is completely inside lined by embroidered panels, without use of glue or Velcro.
The sewing smalls include a bodkin etui, a scissors pocket and fob, needle-book and pincushion.
When Casa Cenina invited me to design and stitch a special model for the Embroidery Feast 2007, I thought that nothing could have been more proper than getting my inspiration from Tuscany, a beautiful Italian Region, where I was born and I live, and where Casa Cenina is located.
Therefore this sewing set is a love tribute to our beloved Tuscany, land of art and enchanted landscapes, world famous for its prestigious towns and history, from Etruscan, Medieval and Renaissance time. Embroidered in one side band are Apennine mountains, rivers and hills, fir trees, cypresses and birches, hay bales on golden fields, sheep at pasture, Maremma coast with flamingoes and one boat on the sea.
Moon and stars softly light up the boat and the sun shines over the snow covered mountain. Sea waves, Versilia cabins, Chianti vineries, sheep at pasture, olive trees, a Roman bridge of Lucchesia, a lady with the Florentine straw hat, and Montalcino castle are embroidered in the other side band. Seagulls and falcons fly in the sky under the sun and the clouds. From a poem of Giosuè Carducci, a famous Tuscany poet, two lovely stanzas "pace dicono al cuor le tue colline, con le nebbie sfumanti e il verde piano ridente" are embroidered in the middle bands, surrounded by vine shoots and Florentine lily, Medici's symbol.
The translation for these stanzas sounds "peace would tell to heart your hills, with vanishing mists and the green pleasant plain".
In the sewing accessories are stitched several Tuscan motifs and symbols: a "cotto" or terracotta vase with sunflowers, wine shoots, a typical Tuscan window with white curtains, a geranium vase, a basket with fruit, another basket with olives and a lemon tree in a "cotto" vase decorated with a lily.
INCLUDED IN THE CHART PACK:
– Design charts and instruction: for stitching and finishing all sections
– Conversion chart for DMC cotton flosses
– Layout embroidery page and alphabet chart to personalize the necessaire
– Instructions in English and/or Italian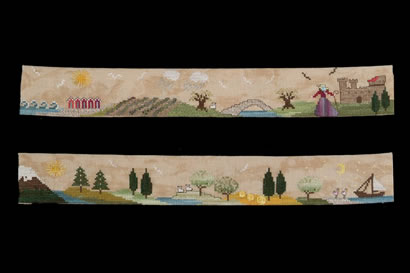 Buttons: two Small Sunflower 2259.s buttons of Just Another Button
FINISHING MATERIALS: one Savoir Faire Ribbon SF4 091 Medieval Mulberry of The Thread Gatherer, Skirtex, polyfill, olive felt, assorted cotton lining fabric, dark sand polyester sewing thread, basting thread, acid free stick glue, Fray Stop or Fray Check.
BOX AND SEWING ACCESSORIES:
– Walnut Divided Oval Shaker Carrier: of Barry Horton
– Bird thread keeper: fruit wood of Barry Horton
– Bodkins: two assorted
– Scissors "Les Ciseaux façon Écaille" of Sajou, particularly fit for the box and the sewing smalls
– Pearl-headed gold-colored pins: eight
or
– Sunflowers-grapes pins: six, from Butterfly Couture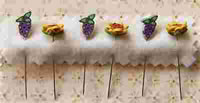 Note: all embroidery and finishing materials, as well as the box and sewing accessories, are available by Casa Cenina.
A complimentary design "Sun…flowers" will be added the purchase from Casa Cenina.