Old Windmill Village Sewing Box & Accessories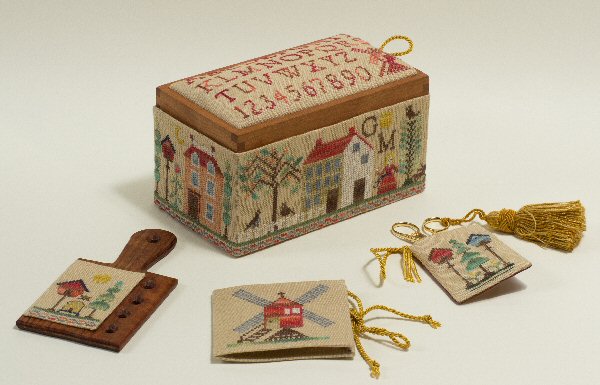 Beautiful hand made cherry wooden box with sliding lid and cherry wooden hornbook threadkeeper by Priscilla's Pocket were the inspiration for this sewing set in an antique Sampler style.
The top of the box features and alfabet pincushion, all around box walls houses and trees, birdhouses and birds….
Inside the box: an embroidered thread keeper, a needl book and a scissors case.
A Mother-of-Pearl threadwinder and needleminder are unique complements of this set, unique and limited edition for Giulia Punti Antichi.
| | |
| --- | --- |
| Fabric | Wide Quarter 18x27" (45.7x68.5cm) 30 ct linen Korty's Special Blend from R & R Reproduction |
| Threads | one skein each of The Thread Gatherer Silk'n Colors silk threads: 00E Ecru, 060 Burnished Gold, 089 Dark Forest, 109 Slate Blue, 146 Whippoorwill Lane, 155 Wintered Grass, 195 Gartenfarn, 271 Bohemian Tryst, 292 Glowing Ember, 317 Dung Paper, 1047 Forest Shadows, 1063 Union Blue |
| Stitches | cross stitch, backstitch, closed Herringbone stitch, Double backstitch over four, French Knot, Diagonal Satin Stitches, Sofia's Stitch, Eyelet Stitch, Smyrna Stitch, Ladder Stitch |