Tokens from Italy – A Sampler for Lindy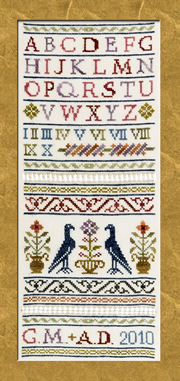 This old fashioned sampler is inspired by antique Italian motifs and stitches and it is dedicated to my friend Lindy Legener who owns a great shop, The Silver Needle, in Tulsa, OK, USA, with a huge online catalogue.
We started our friendship three years ago and since then we have been in touch.
Lindy is in love with Italian handicrafts and she is in love with my Country.
What could have been a better gift for her than an Italian inspired sampler?
On June 10th, 2010, Lindy and a wonderful group of friends and stitchers were cruising the Mediterranean Sea and my husband and I took part in their tour in Cinque Terre, Liguria.
This sampler was a gift for Lindy and her friends.
Note: please pay attention that there are two mistakes in some charts.
The box with my designer collection #1 of Valdani threads contains 12 balls and not 16 balls.
The correct number of Olive Green Dark is 823.
| | |
| --- | --- |
| Fabric | 28 ct Antique Tan linen by Wichelt 18 x 10 in (46 x 25.5 cm) |
| Threads | Designer Collection – Set 1 "Tokens from Italy – A Sampler for Lindy" for Giulia Punti Antichi by Valdani. Each set contains 12 different 12x27m balls of Hand-Dyed Dimensional Solids 3-Strand FlossTM: P1, P2, P6, P10, O 153, O154, 823 Olive Green Dk, 841 Old Rose Light, 851 Antique Gold Light, 871 Dusty Blue Light, 872 Dusty Blue Med, 891 Juniper Light |
| Stitches | Cross Stitch, Eyelet Stitch Drawn thread work: hemstitch, knotted bars and clusters |