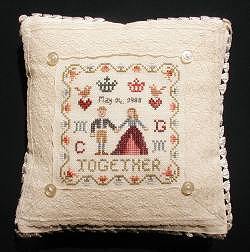 This little piece was designed as a remembrance of the first date with my husband.
Traditional motifs from old sampler motives symbolize love, eternal life and fidelity.
A chart is included to personalize the design.
Pillow: One Ivory Linen Petite Pillow # PLL 18 from Linens and Lace (no longer in production, to be made with trims and ribbons around the stitched area).
| | |
| --- | --- |
| Fabric | 7.5x7.5 in (20x20 cm) Ecru Cashel linen 28 ct by Zweigart |
| Threads | The Gentle Art Simply Shaker Sampler Threads: Barn Grey, Brethern Blue, Chamomille, Cidermill Brown, Harvest Basket, Melon Patch, Ohio Lemon Pie, Old Blue Paint, Old Red Paint, Picket Fence, Rhubarb, Sarsaparilla, Straw Bonnet, Woodrose |
| Stitches | Cross Stitch over two and over one, Back Stitch over two and over one. |
| Etsy Shop | Buy the PDF Chart on Etsy! Click here! |