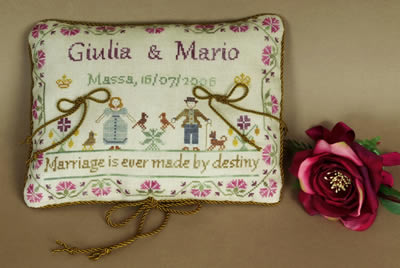 I love this design very much because it was really designed and stitched with love. The first prototype was for the marriage of my friends Dave and Nancy and for them I wanted something romantic with an old fashioned style.
I found a beautiful quote which seemed to me perfect for my friends: "Marriage is ever made by destiny" by George Chapman, English poet and dramatist c. 1559-1634.
In this pillow there are several old samplers symbolisms which add value and meaning to the marriage and the love relationship.
I then decided to stitch one pillow for my husband and myself. It is never too late to have a wedding pillow, even after years!!!
| | |
| --- | --- |
| Fabric | 15x13 in (38x33 cm) 35 ct overdyed linen 1106 Beige by Weeks Dye Works |
| Threads | hand dyed cotton threads by The Gentle Art: 0110 Dried Thyme, 0290 Bluebell, 0370 Poinsettia, 0420 Gold Leaf, 7002 Straw Bonnet, 7003 Shutter Green, 7015 Sarsaparilla, 7030 Briar Rose, 7037 Freedom, 7041 Apple Cider, 7045 Mountain Mist |
| Stitches | Cross Stitch, Backstitch, Smyrna Stitch, Montenegrin Stitch |
| Etsy Shop | Buy the PDF Chart on Etsy! Click here! |