Amicizia in Fiore – Floral Needlerolls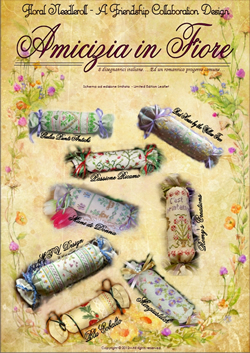 A Friendship Collaboration Design
This leaflet, dedicated to friendship, has been created for the event "Fili Senza Tempo", a beautiful needleart show held in the Medioeval Castle of Formigine, Modena, Italy, on March 24-25th, 2012.
8 Italian designers worked together to this Friendship Collaboration design:
Blu Cobalto, Giulia Punti Antichi, Mani di Donna, Mingiustitch, MTV Designs, Passione Ricamo ®, Red House by the Willow Tree, Romy's Creations.
Celebrating their friendship and the castle, the designers created 8 romantic and lovely floral needlerolls to be stitched and displayed as small tokens of love.
Complete stitching and finishing instructions for the eight needlerolls are included in the chart.