Jean – An Italian Capodimonte Pincushion Doll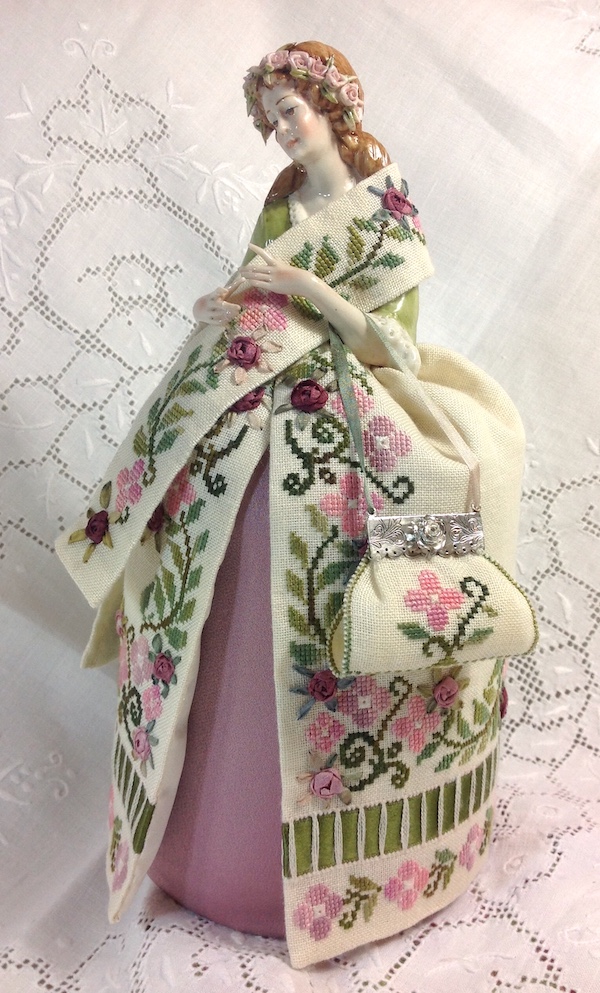 This model is dedicated to by beloved friend Jean Lea, owner of Attic Needlework in Mesa, Arizona, USA, with all my admiration for what she does for needle art.
Porcelain half doll from Porcellane Capodimonte Carusio Giovanni.
Silver purse frame and pins by Roberta Dazzini (available at Giulia Punti Antichi).
Ribbons: one package each of hand-dyed Silken Ribbons from The Thread Gatherer: Cactus'n Sands SR4 037, Nan's Mulberry SR4 040
| | |
| --- | --- |
| Fabric | Edinburgh 36 ct linen Cream from Zweigart: one 13x17 in (33x43,1 cm) for overskirt and stole; one 4x6 in (10x15 cm) for purse |
| Threads | one skein each of twelve-stranded hand-dyed Silk'n'Colors silk threads by The Thread Gatherer: A Bride's Blush SNC 034, Camouflage SNC 055, Sophie's Strawberry SNC 108, Golden Pines SNC 181, Scent of Rose SNC 186; |
| Stitches | Cross Stitch, Backstitch, Smyrna Stitch, Rhodes Stitch, Eyelet Stitch, Nun's Stitch, Drawn Thread Work, Double Hemstitch, Ribbon Embroidery, Spider Web ribbon roses, Japanese Ribbon Stitch, |