Everlasting Love – Italian Purse – A collaboration design with Just a Thought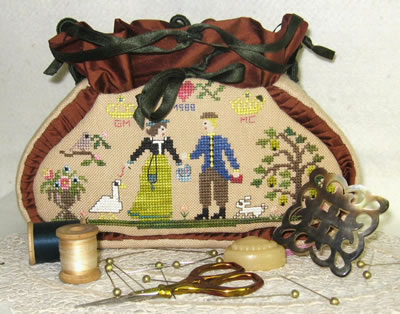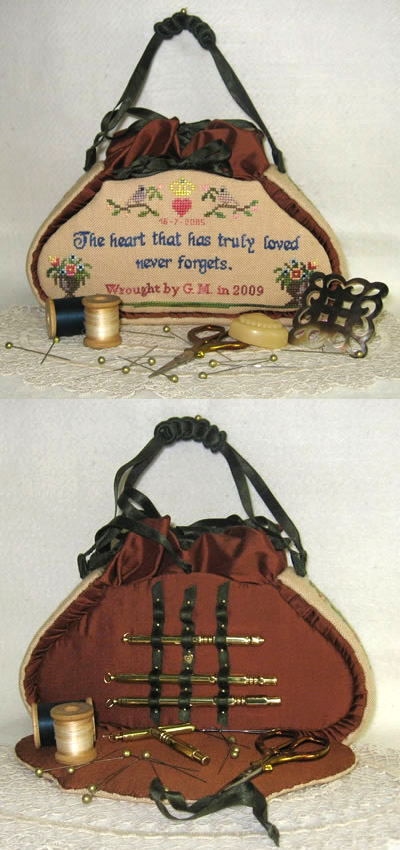 A beautiful sewing purse, with two secret compartments for sewing tools, stitched with antique sampler motifs, dedicated to my dearest friend Marsha and her husband Kenny. The original 18th Century sewing purse, belonging to my collection of antiques, was reproduced by Judy Odell from Just a Thought.
Judy and I have designed our own models and she wrote the finishing instructions.
Stitched with The Thread Gatherer silk threads on Basketweave linen from Lakeside Linens.
For this special piece, we commissioned a wonderful turtledove color thread winder of black lipped mother of pearl, available from us as a separate purchase.
Brass tools and waxer available from Just a Thought.
The chart pack contains complete stitching and finishing instructions for my Everlasting Love Italian Purse.
FINISHING INSTRUCTIONS by Just A Thought from Judy Odell included.
Judy is a professional finisher and if you have any questions regarding the finishing of your Italian Purse you can e-mail her at and she will be happy to help you in any way she can.
She has a complete finishing kit for this purse and offers professional finishing for you if you choose not to do the finishing yourself.
You can visit her at www.justathought.net
| | |
| --- | --- |
| Fabric | Basketweave 32 ct linen from Lakeside Linens 18 inches wide by 11 inches high (45.5 x 28 cm) |
| Threads | one skein each of The Thread Gatherer Silk'n Colors silk threads: 0B Ink Black, 000 Snow Drift White, 023 Frosted Auburn, 025 Forest of Greens, 055 Camouflage Green, 110 Pond Scum, 136 Curried Mustard, 146 Whippoorwill Lane, 166 Texas Blue Bonnet, 182 Hidden Canyon, 183 Sushi Flower, 317 Dung Paper, 1015 Cameo Creme |
| Stitches | Cross stitch over two and over one, Back stitch over two and over one, Satin stitch, Smyrna stitch, Sofia's stitch. |