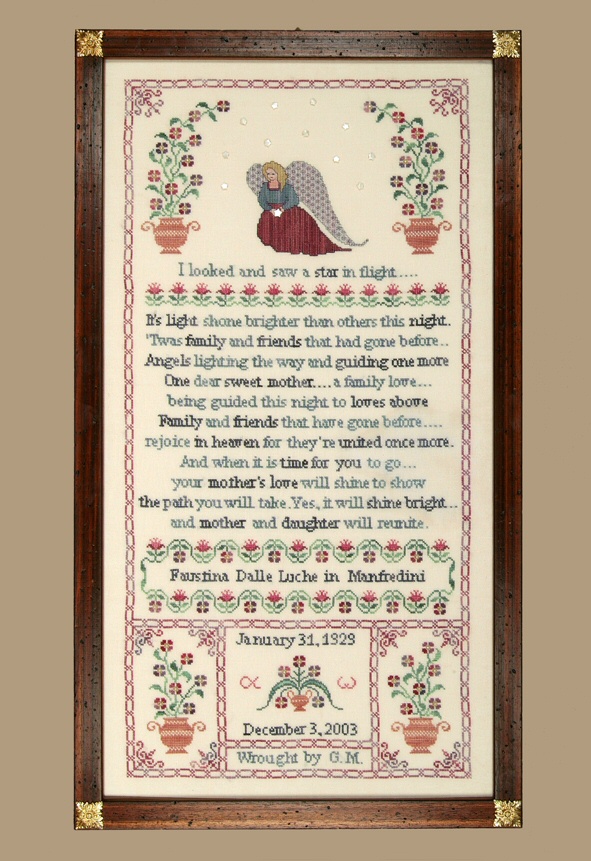 This sampler has a special story. I designed the Angel while I was with my mom on her last morning, to keep something to remember that day when she wouldn't be with us anymore.
In the meantime my dearest friend, Judy Odell, in California wrote a wonderful poem dedicated to my mother and sent it to me with an email message.
On December 3rd, when I went home, I saw her email and…. my angel was inside Judy's poem!
It was so touching, being so far, I in Italy and Judy in California, but still so close…
This sampler is not solely dedicated to my mother Faustina, even though it has been designed and stitched with the remembrance of that special night.
It is a mourning tribute to a gifted life with the hope of being together again one day.
Might the stars in the sky be our blessed loved ones and our special guiding light not only in life.
Beads:
– one package of Glass Seed Beads # 00123 Cream from Mill Hill
– one package of Petite Glass Beads # 40553 Old Rose from Mill Hill
Mother of pearls stars:
– ten mother of pearls stars medium size (1/4″) from Access Commodities
| | |
| --- | --- |
| Fabric | 18x29 in (46x74) 36 ct linen Magnolia of Lakeside Linens |
| Threads | the Olde Willow Stitchery hand-dyed cotton threads: one skein of 003 Sweet Pea, 022 Cranberry Juice, 038 Black Cherry, 085 Misty Morning, 203 Westtown Green, 205 Yorkshire Blue, 210 Emblem of Innocence Rose, 230 Providence Brown, 036 October, 090 Moonlight Fire, 222 Octagon Blue, 012 Green Peace, 076 Indigo Glow, 028 Purple Majestic |
| Stitches | Cross Stitch over two and over one, Back Stitch, Vertical Satin Stitch |