Hallowitch Sewing Box- Designing Ladies 2005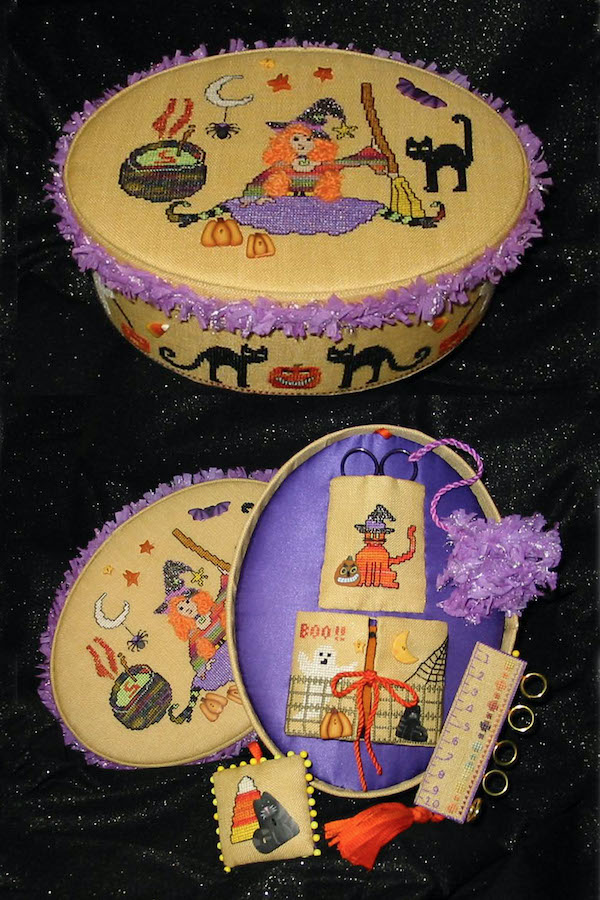 The name of this box "Hallowitch" is a combination of the two words, Halloween and Witch, and it is a very amusing word. My daughter Sofia designed this piece at age eleven.
The whole process started when she received the invitation from Judy Odell, our dearest friend in California, USA. I guess not many little girls or teenagers have received the honor to take part to an international Designing Ladies' project.
The use of variegated silk threads, special ribbons and buttons, gives a lovely look to the box, and we are sure that you will enjoy while stitching it.
Chart pack includes designs charts and instructions for main box sections (top, lid band, wall band, bottom), scissors pocket, two doors needlebook, pin roll and ruler.
Buttons of Just Another Button Company (not included in chartpack):
two buttons each: 2241.S – 3314.S – 4414.S – 4414.T
one button each: 1137 – 1153.S – 2241.T – 3331.L – 3331.M – 3304.L – 1138.S – 4528.S – 1138.L
FINISHING INSTRUCTIONS:
Finishing instructions for the assembly of this necessaire can be found in the Designing Ladies' "Stitcher's Treasure Box" book by Just A Thought of Judy Odell.
Please enquire at if you need finishing instructions.
| | |
| --- | --- |
| Fabric | For the main box sections: 28x21.5 in (71x55 cm) Belfast Desert Sand linen 32 ct from Wichelt; For platform sections and sewing accessories: 21x13 in (53x33 cm) Belfast Desert Sand linen 32 ct from Wichelt |
| Threads | The Thread Gatherer SNC:000 Snow Drift White, 0B Black Ink, 036 Blue Violet, 095 Phoenix Rising, 114 Sienna Bisque, 119 Sweet Lavender, 126 Monster Mash, 148 Dragon's Breath, 151 Sprite Grass, 165 Cypress Umber, 172 Gingersnap, 191 Vivacious Violet, 205 Spotted Cobra, 206 Piccadilly Circus, 300 Yellow Crane, 974 Halloween Confetti, 994 Kaleidoscope; The Thread Gatherer Wild Hairs thread: WH 003 Orange for witch's hair; Kreinik Metallics Very Fine Braid:010HL Steel Gray High Lustre, 150V Vintage Amber, 9294 Periwinkle; Kreinik Blending Filament: 032 Pearl |
| Stitches | Cross stitch, back stitch, Diamond Smyrna Stitch |