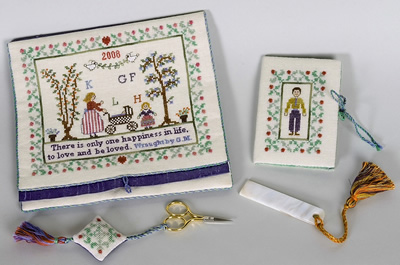 This purse is dedicated to my friend Katy and her family, the little daughter Hannah, the baby boy, Logan, and the husband Gary Fong.
It is a joyful tribute to a joyful family.
A special quote of George Sand, a French noblewoman of the 18th Century, very well known writer and painter, is embroidered on the front flap.
Accessories: Mother-of-Pearl heart rings and ruler from Kemscott Designs.
FINISHING INSTRUCTIONS included in the chart pack.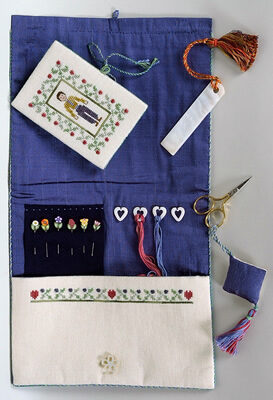 | | |
| --- | --- |
| Fabric | 26x11 in (66x28 cm) Linen 30 ct from Weeks Dye Works linen |
| Threads | Weeks Dye Works Floss Collection: Cherub 1134, Chestnut 1269, Ivy 2198, Gold 2221, Grenadine 2244, Hazelnut 2237, Aztec Red 2258, Camellia 2276, Williamsburg Blue 3550, Snowflake 4125, Periwinkle 2337, Cactus 2181 |
| Stitches | Cross stitch over two, Cross stitch over one, Back stitch, Long vertical and diagonal stitch, Smyrna Stitch over two and over four, Sofia's Stitch, Lazy Daisy Stitch, Closed Herringbone Stitch |