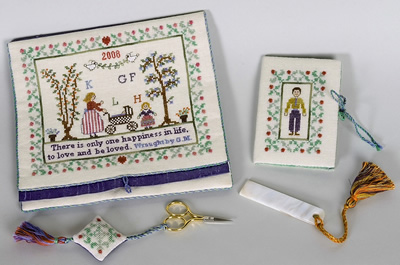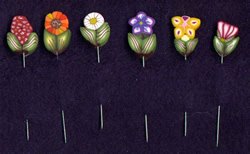 This purse is dedicated to my friend Katy and her family, the little daughter Hannah, the baby boy, Logan, and the husband Gary Fong.
It is a joyful tribute to a joyful family.
A special quote of George Sand, a French noblewoman of the 18th Century, very well known writer and painter, is embroidered on the front flap.
The quote "there is only one happiness in life, to love and be loved" is perfect for Katy and her family to whom this sewing purse is dedicated.
Because of the special meaning of this purse, we commissioned a lovely Flowers pins set.
Please ask our Company if you wish to purchase these accessories.
Accessories: Mother-of-Pearl heart rings and ruler from Kemscott Designs.
FINISHING INSTRUCTIONS included in the chart pack.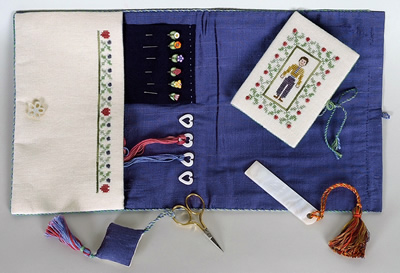 | | |
| --- | --- |
| Fabric | Linen 30 ct from Weeks Dye Works linen 26 x 11 inches (66 x 28 cm) |
| Threads | Weeks Dye Works Floss Collection - one skein each of Cherub 1134, Chestnut 1269, Ivy 2198, Gold 2221, Grenadine 2244, Hazelnut 2237, Aztec Red 2258, Camellia 2276, Williamsburg Blue 3550, Snowflake 4125 - two skeins of Periwinkle 2337 - three skeins of Cactus 2181 |
| Stitches | Cross stitch over two, Cross stitch over one, Back stitch, Long vertical and diagonal stitch, Smyrna Stitch over two and over four, Sofia's Stitch, Lazy Daisy Stitch, Closed Herringbone Stitch. |