In The Burgundy – Unusual Sewing Compendium & Pincushion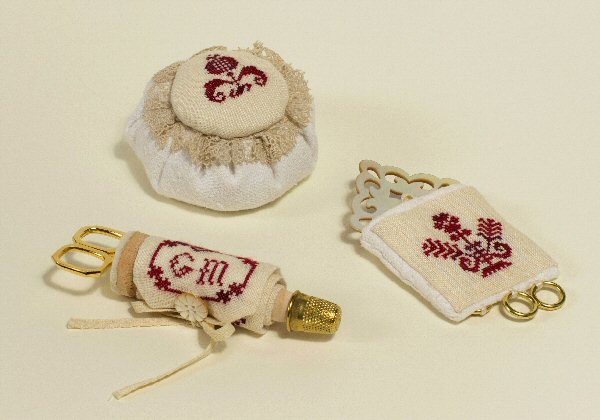 This sewing set has three pieces: the sewing compendium, the pincushion, and the thread winder keeper pouch.
The sewing compendium is mounted over a wooden dolly peg: the scissors tip is hosted inside the peg stand, the thimble fits the top of the peg, and the needlebook, wrapped around the peg, is closed by a bow tied around a nice Mother-of-pearl button.
The pincushion is made up of two parts, the stitched one mounted over a padded disc, and the bottom one is made up by a fabric flat ball containing white cat litter.
The last piece is a thread winder keeper pouch with three brass rings for keeping the threads while stitching. A few things make this set unique: the dolly peg+stand structure easily hosts the tip of the Little Gems scissors of Kelmscott Designs. We have tried several scissors but only the Little Gems are perfect for the slot of the peg. The needlebook wrapped around the peg is a lovely idea to hold a lot of needles in a small volume. The stitched part of the pincushion is not in contact with the stuffing material of the pincushion base, and for this reason a lot of other materials, besides cat litter, like bath salts, lavender, rice, fiberfill, cotton, and sawdust can be used. All these options are valid as long as they will not stain the finishing fabric. As a finishing fabric, for the original model and kits, I have used old linens from my grand-grand-mother's and my grand-mother Alfonsina's dowry but, since the design is monochromatic, you can use a thread of your choice to match your favorite finishing fabric.
| | |
| --- | --- |
| Fabric | Etruria 35 ct ecrù linen (17½x 4" / 44x10cm) from Manifattura Tessile Sotema |
| Threads | one skein of In the Burgundy SNC 074 hand dyed silk thread from The Thread Gatherer |
| Stitches | cross stitch |