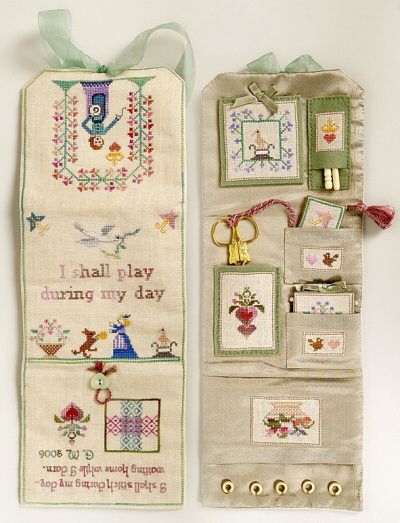 This "darning sewing set" was inspired by an antique embroidered piece found on June 2005 at the flea market in Berlin, Germany.
I found the little sampler at the very bottom of a big basket and I took it with me to Italy as a special remembrance of our lovely visit to that town.
The old Berlin sampler was stitched with one strand of silk, and stitches are so small that I had to scan and enlarge the sections in order to be able to chart the motifs.
I got in love with the sampler motifs and for this reason I decided to give a new life to the design.
I have chosen The Caron Collection Waterlilies to give a distinctive and modern look to an old fashioned piece.
Darning section pays a tribute to those girls and women who, in orphanage shelters, were taught the difficult art of darning and stitching.
Complete finishing info and a boy chart, to replace the girl are enclosed.
Errata Corrige
The girl's dress should be stitched in blue, with 041 Blueberry or, as a second choice, with 197 Monsoon.
In some charts, for a software mistake, the symbol was changed in and doesn't appear on the symbol chart too.
I apologize for this mistake and the confusion which might have caused.
Original finishing kit available through Mani di Donna.
| | |
| --- | --- |
| Fabric | 32 ct linen Lambswool from Zwiegart or Pearled Barley from Lakeside Linens |
| Threads | one skein each of The Caron Collection Waterlilies: 041 Blueberry, 066 Jade, 072 Midnight, 084 African Sunset, 096 Orange Blossom, 137 Copper, 139 Kelp, 146 Moonglow, 149 Cherry Cordial, 186 Papaya, 189 Gingersnap, 190 Fraises du Bois, 197 Monsoon, 209 Iris, 217 Chili, 218 Ash. |
| Stitches | cross stitch over one or over two, back stitch over one or over two, double back stitch, double rice stitch, Smyrna stitch, running stitch, Nun's stitch. |